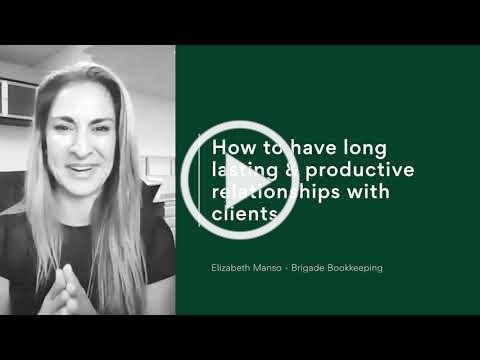 Recently, I introduced you to Advisable by Fathom, a new and exciting online educational platform. There, I help accountants grow their businesses by offering insights on how to make a successful leap to advisory services.
I enjoy the questions I'm asked for this series because the answers are often useful for all kinds of small businesses, not just those in accounting and bookkeeping. As a special sneak peek, I'm summarizing the third and fourth videos I made in the Q & A below, with additional insights for small businesses like yours.
Q1: How does Brigade create long-lasting and productive client relationships?
We make it a point to communicate a lot, and sometimes our clients are shocked (in a good way!) by how much communicating goes on. We follow an onboarding program that includes a kickoff call. In that call, we set expectations and timelines. And guess what? We set dates for things to be done, and we stick to them. Clients are often flabbergasted when we do.
We also strive for a lot of two-way and open communication. Some clients need to get used to this, but when they do, we are cracking jokes and discussing family as much as business. It's a professional relationship on another level.
This sets the stage if there is a problem. Clients feel comfortable communicating issues with us, and we're receptive to their feedback. This promotes mutual understanding and client retention.
Clients are grateful for our two-way dialogue. And at a certain point, the client is "officially trained" in our style, and becomes preemptive—making sure they get me what I requested because they know I will pursue them for it.
Advice for all small businesses:
In what ways can you surprise and delight your customers in ways that set you apart from the competition? Is it possible to "train" your clients in your preferred communication style? If you set the expectations from the get-go, you are taking an important step towards a productive relationship.
Q2: How do we ensure all clients are happy without overstretching?
We utilize several integrated apps to help us. We also have people on the team who are considered SMEs, or subject matter experts. If there's a certain question that is in that person's expertise, it goes to them.
Advice for all small businesses:
When we decided to use cloud-based apps, it was one of the best business decisions I ever made. We improve our clients' experiences with these tools. I strongly believe that bookkeeping will become a dinosaur unless we adapt to the implications of cloud-based tech and AI. Are there available technologies and apps out there that will improve your service delivery and help ensure you are changing with the times? If so, strive to embrace them.
Brigade is a resilient accounting firm for modern times. We can help your company operate smoothly, stay relevant, and maximize profitability. Want to know more? Let's talk today.