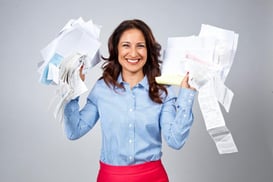 Here I am, getting it all in order!
Getting a company makeover is just what we needed. As the new Brigade Bookkeeping, our company name represents exactly what we do; we are your brigade, who work to keep your company's books up-to-date and "fight" to keep your company in positive cash flow territory. Now it's time to tell you about who we help.
Typically we work with small to medium-sized business owners. Recently, some of our biggest success stories have been with non-profit organizations.
One of those non-profits was a charity had a full-time accountant on staff. The foundation's Board of Directors found out the financial records were in disarray because that staffer couldn't keep up with the company's growth. That person was fired. Instead, they brought in a large regional CPA firm andBrigade Bookkeeping to clean up the mess.
We were hired to prepare the books and schedules for the accounting firm to then do an audit. Typically, non-profits have to separate their expenses into general expenses, program expenses and fundraising expenses. We had to do this for all of 2013!
In the end, because our team is made up of experienced accountants and CPAs, who happen to be bookkeepers, we know what accounting firms need in order to conduct an audit and we did it. The accounting firm had minimal changes or requests for our team and the job was completed quickly and efficiently.
Turns out the client got a clean opinion, which means they passed the audit with flying colors. The foundation's owners loved our work so much we went from doing monthly work to daily work for this client. We are their outsourced CFO (Chief Financial Officer) and we are honored by that.
They were so thrilled with our work, they wrote this testimonial:
"We can't say enough good things about the work that Liz Manso does from an accounting perspective for the Foundation. She is smart, she's focused, dedicated, committed, trustworthy, she's honest and most importantly, diligent in every aspect of what she does to ensure that our books are right and without errors. You couldn't find anyone better to do your accounting and year-end audit schedules."
At Brigade Bookkeeping, we're proud to say we treat all of our clients like this. We're not just bookkeepers, we guard your cash flow, make sure your bills don't enter into collections and put all of your systems in place to make sure your cash flow keeps flowing.
So the next time you need help with your books, don't stress over it, call Brigade Bookkeeping. We are your lean mean positive cash flow fighting machine!
Liz Manso
Your Positive Cash Flow Commander