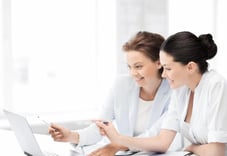 Steps to Successfully Rebrand
Every business owner has a different reason for changing the name of their business or rebranding their company. Is your company name too generic for what you do? Are you changing the type of business you're doing and want to reflect it in your company name? Is your company name too complicated? Do you need a modern, new look?
As the new Brigade Bookkeeping, we wanted to let everyone know we are bookkeepers who use real time bookkeeping tactics to keep our customer's books clean and up-to-date. No matter what the reason you have for changing the company name, make sure you have a goal in place for the change before you do it that will result in added sales or value. Once you have that in place, here are steps you must follow to rebrand:
1. NOTIFY YOUR SECRETARY OF STATE – When you set up any type of legal business, you typically incorporate and file articles of incorporation through your state's Secretary of State. All corporations and partnerships, except sole proprietors, must let their Secretary of State know about name changes. You can usually do this online. A fee is usually involved.
2. SET UP A DBA – DBA stands for doing business as. This is the official operating name of your company rather than its legal, registered name. Some counties, cities and states, including Florida, require a business to file a DBA to protect consumers, who might be doing business with that company. For example, your registered legal company name might be your name, John Smith, who is doing business as John Smith Auto Repair.
3. NOTIFY THE BANK – Let your bank know about any name changes. If you don't, you could have trouble withdrawing or depositing money into the bank. That could result in an impact to yourcash flow.
4. CHANGE YOUR WEBSITE & STATIONERY – Every place your company name lives has to be changed. That includes your company website, stationery, your building sign and even signs on company vehicles. Don't forget, you must also change the name in existing copy, like company brochures, advertising and brand messaging. Try to schedule the name change to occur all at once. Make sure it happens rather quickly too. You don't want to have two different brands or names out there. A quick transition will lead to less confusion for your current and potential future customers.
5. NOTIFY YOUR CLIENTS – This might be the time to broaden your customer base. By changing your name, does it introduce you to a wider demographic? Send out a press release, a newsletter or multiple e-mails to let your clients know about the name change and if any other aspects of your business are changing. You may want to do this simultaneously with your website and copy changes, so there is no overlap or confusion to your customers.
6. UPDATE INVOICES – Once you've made the announcement, don't send out any invoices with your old company name, even if the transactions took place prior to your name change. It's important that you notify your clients about the company name change, so they know who is charging them for services.
Deciding to change your company's name or rebranding your company takes some legwork, but it gives many business owners a fresh start or in some cases, a much needed company makeover.
So thank you for sticking with Brigade Bookkeeping. We hope you like our makeover and name change. If you have any questions about it or our services, please don't hesitate to ask.
Here's to a week of new possibilities!