I'm back… refreshed and renewed after a Brigade Bookkeeping company retreat in the Bahamas. Yes, you heard me right, the Brigade Bookkeeping team spent a weekend in the Bahamas and now we're back and better than ever ready to serve you.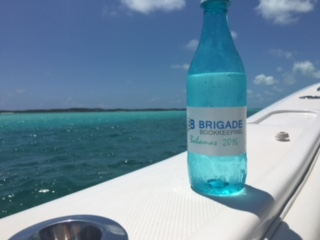 As the owner of a small business, it's always a challenge to hire the best people and keep them from jumping ship to a large corporation. So why not offer your employees the perks of a big company, with the attention and detail of a small business. That's why this year, I decided to take my employees on a corporate retreat.

So you're probably wondering how could a small business owner afford an overseas corporate retreat? Well, besides saving for it, believe it or not, a company retreat could be 100% tax deductible, if you follow these guidelines:
NECESSARY TRIP – A company retreat can be deducted if it's truly a working or team building trip. Going out of town takes you away from ringing phones, stacks of paperwork and puts you and your employees in a new setting. That change of setting could lead to a new, breakthrough idea and could help you finally finish a big project you've been stalled on, or could result in important research of your destination for business purposes. These are good and accepted reasons for a necessary trip.
BUSINESS PRIMARY PURPOSE – Is your trip solely for pleasure with just a day of work? The IRS may not sign off on that. Make sure business is your primary purpose for a corporate retreat. Create a daily agenda with specific goals and tasks your team will accomplish or seminars they plan to attend. Also remember, a retreat can't be just you and your spouse, it has to include other members of your team.
TRAVEL AND LODGING WRITE OFFS – You can write off travel and lodging for a retreat if everyone attending the retreat has a legitimate reason to be there. The Bahamas may seem like a luxury, but one of our favorite clients lives and operates her business from there, so our Brigade Bookkeeping team got a chance to personally meet this special lady and to discuss her business.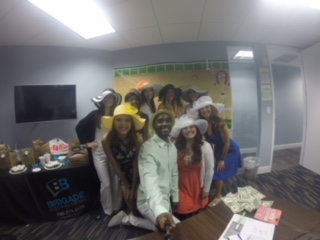 A corporate retreat is a great way to build team loyalty, improve communications and boost employee morale. At Brigade Bookkeeping, we do your books with a smile, and now, the smile is even bigger after a weekend filled with team building activities.

I hope you will consider hosting a corporate retreat. If you have more questions about organizing it or writing it off, email me or one of us on the Brigade Bookkeeping team. In the meantime, enjoy a few of our pics and video and have a great week!