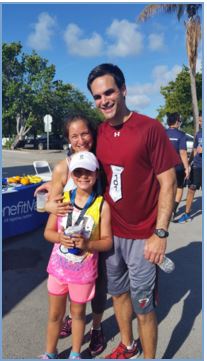 When I was a little girl growing up, I never dreamed I would be an accountant or bookkeeper. I was supposed to get married and have kids, but then in 8th grade the most amazing thing happened, I learned that I loved math!
I became fascinated with anything that had to do with numbers and tried to figure out how I could combine a career and math. That's when I found accounting, but little did I know my family couldn't afford to send me to college, so my dreams would have to wait. That's until I looked for, applied for and earned a college scholarship. A school gave me the opportunity and I took it.
I now own Brigade Bookkeeping and have a team of people who love math as much as I do. I could never have made a wonderful life for myself in this career I love, without the help of others. That's why now, I figured it's my turn, with your help, to give back. I have the opportunity to help educate a future accountant, but I need your help.
Next Saturday, April 23rd, my family and I are participating in the 1040K Run and Accounting Career Fair in Coconut Grove. The race raises funds for the Florida Institute of Certified Public Accountants Educational Foundation or FICPA. FICPA provides scholarships to deserving South Florida accounting students.
I would love my family and friends to support me in this worthwhile endeavor. Besides supporting the education of a future accountant, here are a few other reasons to donate:
Your donation is tax-deductible. Save your receipts!
You can donate online by clicking here. So far I've reach more than 70% of my goal. Help me make it 100% or more!
My goal is to raise $5,000. Any amount is greatly appreciated, and the bonus is, I will match your gift, dollar for dollar.
It's great that I have this opportunity to give back and so many family, friends and colleagues to help me reach my goal. Helping someone in need to obtain an education that he or she cannot afford otherwise is a huge reward. I hope you will consider making a donation. I truly do appreciate it and am forever grateful to those who took a chance on me years ago.
Without the generosity of others, I would not have become the businesswoman and professional I am today. The only words I can say are "Thank you!"
**p.s. Don't forget to file your taxes by April 18th