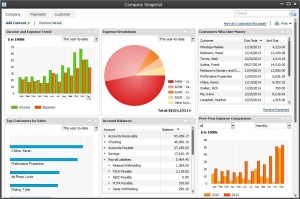 For 5 years, DM Accounting has been keeping the books for hundreds of clients. Just recently, we were invited to be part of a workshop for an organization called SCORE. SCORE is non-profit group of retired or experienced accountants. Their goal is to help new or small business owners through the details of owning a business.
Whether you've been using QuickBooks for years or are new to the program, there's always something new to learn. Here are some of the highlights for getting started with QuickBooks.
CREATE A NEW COMPANY
Go to the file menu and choose a new company, then enter your company's info and choose an industry.
CHART OF ACCOUNTS
This is the chart that will track how much money your company has, how much money your company owes, how much is coming in and how much is going out. This will include things like bank accounts, accounts receivable, equipment, furniture and fixtures, vehicles, inventory, and fixed assets. Liabilities such as accounts payable, credit cards and payroll tax payable, also fall under the chart.
ACCOUNTING BASICS
There are three things you need to know when it comes to accounting: Assets or what you have and what people owe you. Liabilities or what your company owes to other people. And finally, equity or the difference between what you have and what you owe.
CUSTOMERS & INVOICES
Congrats on your new customers, now make sure to enter your customer by clicking on Customer Center in the navigation bar, clicking on the New Customer and Job menu button and then choosing New Customer. For invoices, go to the Create Invoices window and enter the information.
VENDORS & BILLS
The Vendor Center is the place to go to add a New Vendor and the Vendors Pay Bills command allows you to describe the payment that you want to make.
BANK RECONCILIATION
A Bank Reconciliation is one of the most important things a small business owner should do every month, but every time we get a new client, they skip this bookkeeping task. That's because Bank Reconciliations can take time. Here are some basic steps to get them done: First select the account that you want to reconcile from the Account drop-down list, identify the ending date, enter the ending balance, use the Service Charge boxes and the Interest Earned and finally continue and clear all transactions for that month.
FINANCIAL REPORTS
If you don't get copies of your balance sheet, a profit and loss statement or a statement of cash flows from your bookkeeper monthly, then you may want to demand it or switch to someone else. We give all of our clients these documents because they are necessary to know where there business is financially.
These are the basics of QuickBooks. The program does so much more, so if you have more specific questions, please e-mail or call me or someone on my team. We are QuickBooks experts. Our goal is to help keep your books in line, so you can keep your business growing.